Grant Cruiser Family Van | GORV.com.au
Have you ever asked yourself if the person attempting to sell you a caravan actually owns a caravan, or has ever been caravanning? More to the point, does that salesperson own one of the caravans that they want you to also own? Have they put their money where their mouth is? Believe it or not, such salespeople are out there. Scott Grant, of the highly regarded dealership Ian Grant's Caravans in Traralgon, Vic, is one of them. His 'ride' of choice: a Grant Cruiser Family van built by Essential Caravans.
The 'Grant' in the van's moniker obviously comes from the dealership's name. Interestingly, the Cruiser is also sold by two other dealerships, and both lend their name to the van, too. There's the DBC Cruiser (DBC stands for Dave Benson's Caravans, a dealership in South Australia), and the Lifestyle Cruiser, named for Lifestyle Caravans in Tasmania. For Queenslanders, Kratzmann's Caravans and RVs sells its own Essential model called the Exceed, which is specced up especially for that dealership.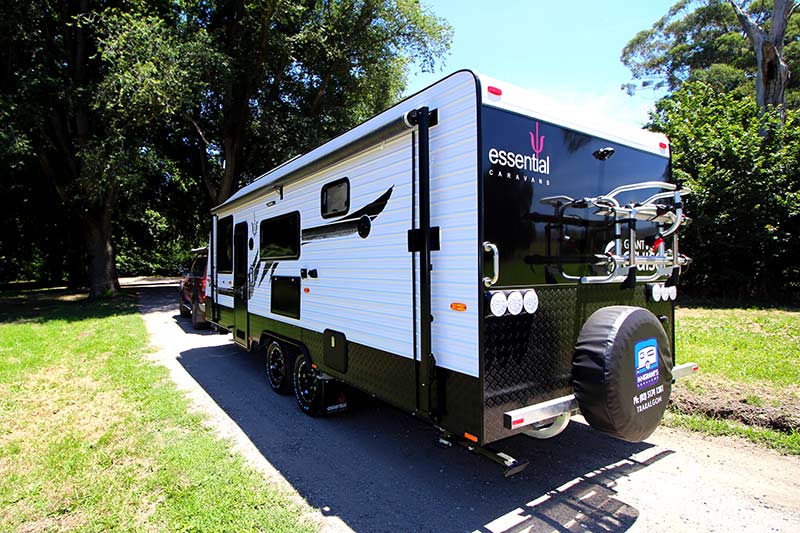 Our review Grant Cruiser was fresh off the factory floor. It had just arrived in Traralgon and Scott had barely taken possession of it when we swung past, hitched it up, and nicked off with it. Sorry, Scott!
ENTRY: GRANTED
There are four layout and size options in the Family range, each a foot longer than the last. Ours was the 2-5 Family Cruiser, a 22-footer with a heart of gold. With its front bedroom, amidships club lounge and kitchen, and rear kids' bedroom and separate bathroom, it has 'family adventure' written all over it.
The main bedroom has a queen-size bed surrounded by wardrobes, drawers and overhead lockers. The bed lifts on gas struts in the usual way; however, Scott has fitted 'his and hers' drawers to this space for access without having to raise the bed base. Some might say this is an inefficient use of space, but I beg to differ. Yes, the drawer boxes erode some useable space, but they make things much more organised. Besides, there's still some space behind them. However, it must be said that the van's tunnel boot, not to mention the onboard battery, also erode under-bed storage space.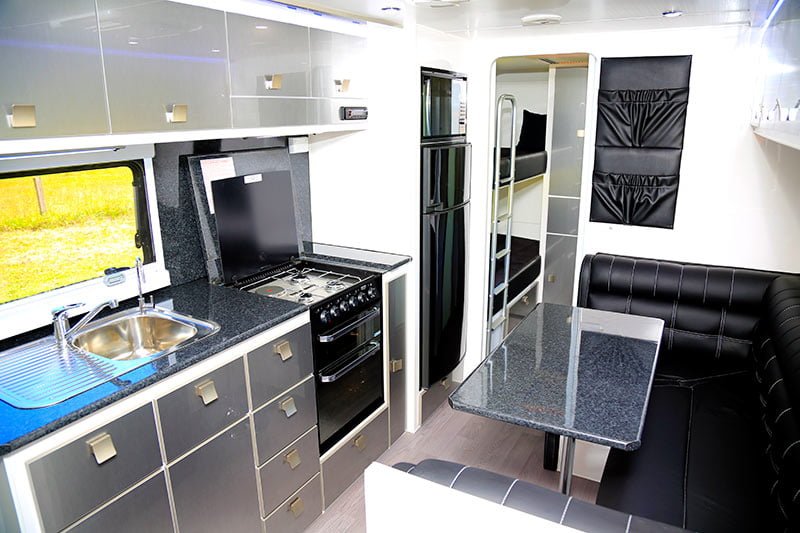 There's a TV on the offside, at the foot of the bed, but because it's on a swivel arm, it can also be viewed from the welcoming club lounge. Large, comfortable (footrests included!), it would easily sit four or five around the table for dinner.
The opposing kitchen, meanwhile, doesn't lack for storage or appliances, with a four-burner cooktop, griller and oven, a stainless steel sink with flick-mixer tap and filtered drinking water, a two-shelf slide-out pantry, a three-way fridge and microwave.
Bench space? Well, that's on the small side, but as with many vans, the cooktop is recessed into the bench, with a hinged 'lid' made of the same bench that can be used when the cooktop isn't.
Sensibly, all switches and controls are centralised in a locker above the kitchen bench, alongside the BMPRO Genius battery management system and the regulator for the roof-mounted 150W solar panel. This might seem like a small touch but by putting the water pump switch, water level indicator, etc., in one cupboard, the walls remain clean and uncluttered.
Mounted to the overhead kitchen cabinetry is a Bluetooth-compatible NCE DVD player with USB input.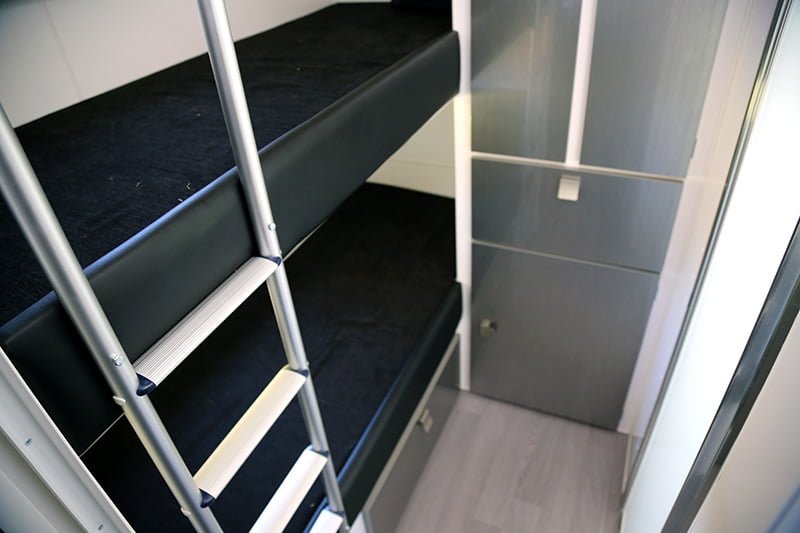 And that leaves the rear bathroom/kids' bedroom. Two nearside bunks, a sturdy ladder, drawer storage under the bottom bunk (optioned in by Scott - a hinged flap is standard) and a large wardrobe come together to make the bedroom particularly functional. Oh, and that same wardrobe houses a front-loading Dometic washing machine. Nice.
What's more, the kids' bedroom, even with the privacy screen closed, remains filled with natural light, thanks to the bunk windows and roof hatch.
The bathroom has its own cubicle within the van. It contains a cassette toilet, separate washbasin/vanity, and a separate shower, with room left over to towel off and get dressed in complete privacy - which would be particularly welcomed by families with older children.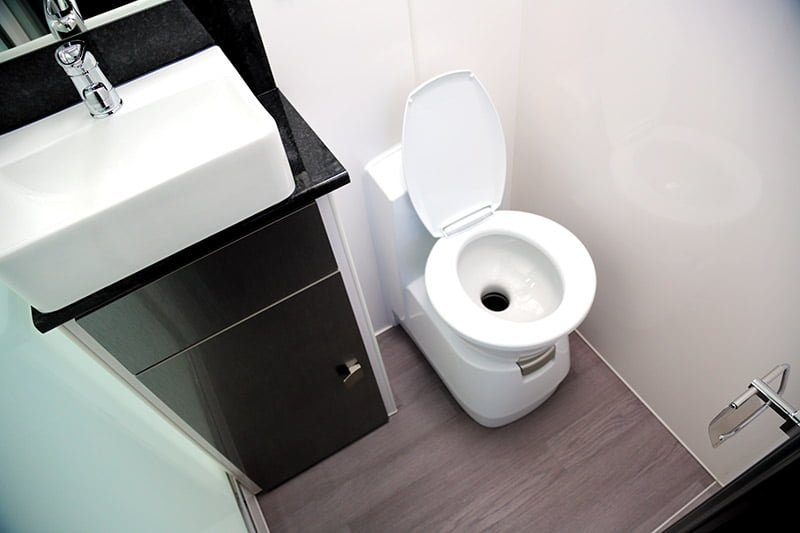 Naturally, there are other appliances and features, such as the Ibis 3 reverse-cycle air-conditioner, LED lighting, etc., but suffice to say that the Grant Cruiser Family van ticks many boxes. What's more, it does it in style.
TOWING THE GRANT CRUISER
In the value-for-money stakes, our review Cruiser Family hits the sweet spot. Scott Grant had some extra gear fitted to the van, nudging the price northwards, but nonetheless with its base price of $60,990 (plus dealer and on-road costs), it represents a relatively affordable way for families to hit the open road.
It rides on a 6in SupaGal chassis with 2in chassis raiser, tandem-axle leafspring suspension, and 15in alloy wheels with 10in electric brakes. I towed it behind my faithful 80 Series Cruiser. Now, I should point out that because of the year my Cruiser was built, 1993, it's limited to tow only 2500kg, with 250kg on my upgraded Hayman Reese towbar. The exercise was still legal given the van's unladen weight of 2464kg, but it was not ideal - I always prefer to tow with a vehicle legally capable of towing at or above the van's ATM. Nonetheless, the van towed like the proverbial dream and I would expect that behind a more capable 4WD, such as a Jeep Grand Cherokee, it would perform to an even higher standard. The van was well balanced, without any hint of side-sway or pitching, and no, I did not use load-levellers.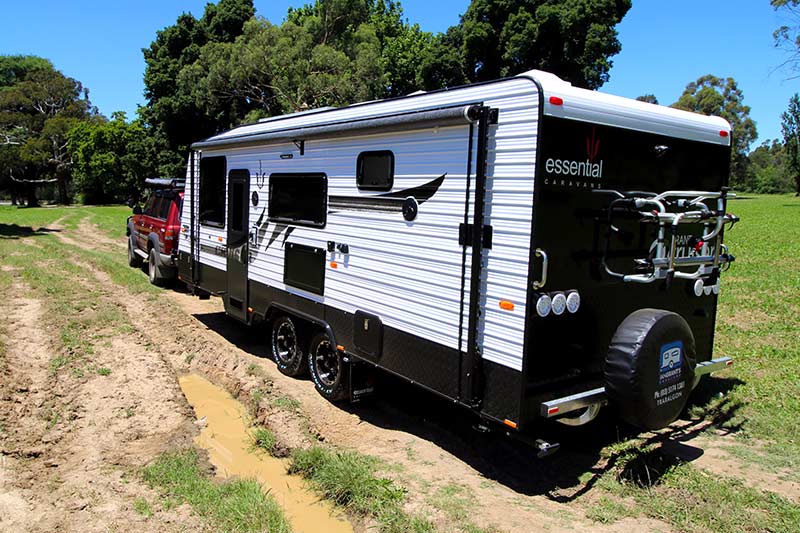 The gal-lined tunnel boot of our review van was occupied by an optional nearside slide-out Weber Q with nearby gas bayonet, but on the offside, an optional checkerplate drawer had been fitted - which I loved. If you've ever rummaged about inside a tunnel boot to find what you're after, you'll understand.
There's another (smaller) storage box at the offside rear, while on the back of the van was an optional bike rack. Should a bike rack be optional on any family van? My kids would say no!
There's a full-width roll-out awning, awning light, a couple of speakers, a 12V point and a fold-down picnic table. Beneath the van are two 95L water tanks and you can option in a grey water tank, too, though this van didn't have one.
GORV'S VERDICT
The Grant Cruiser Family is built in the traditional way, with a meranti timber frame and aluminium cladding, though the front is half Alucabond and half checkerplate, and the rear sports a stylish gloss-black composite panel. However, it is a striking caravan, outside and especially inside, with a layout that affords both parents and kids there own space.
Families on the look-out for a new and relatively affordable caravan would do well to give the Grant Cruiser Family a long look. It's good enough for Scott Grant and his family, after all.
As published on gorv.com.au